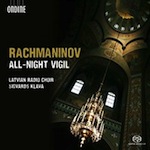 All-Night Vigil CD
Kompositör
Rachmaninov Sergej Vasiljevitj
Latvian Radio Choir / Sigvards Klava

This release of Rachmaninov's All-Night Vigil follows several acclaimed releases from the Latvian Radio Choir under its Artistic Director and Principal Conductor Sigvards Klava.

Rachmaninov's Liturgy of St John Chrysostom (ODE11515) and the All-Night Vigil are two supreme examples of choral writing in the Russian Orthodox tradition, featuring music of uplifting spiritual strength.

The All-Night Vigil is composed for unaccompanied voices but Rachmaninov created a work of such richness that it can be described as "choral orchestration", demanding a wide vocal range from the singers.

The Latvian Radio Choir is regarded as one of the top professional chamber choirs in Europe. Their repertoire extends from the Renaissance to the present day, but always focussing on exploring the capabilities of the voice and seeking to push its limits.

Sigvards Klava, Chief Conductor and Artistic Director of the Latvian Radio Choir since 1992, is one of Latvia's most prolific choral conductors. He has conducted many premières of new choral works by Latvian composers.