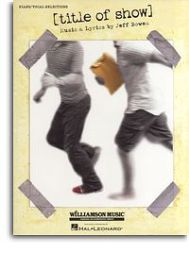 Nominated for a 2009 Tony Award, [title of show] is a musical that documents its own creation by two Broadway fans who want to meet to enter the New York Musical Theatre Festival - and struggle to complete the show in only three and a half weeks.

This matching folio includes thirteen Piano/Vocal arrangements with the melody in the Piano part.

Innehåller:
A Way Back To Then
An Original Musical
Die Vampire, Die!
I Am Playing Me
Monkey's And Playbills
Nine People's Favorite Thing
Part Of It All
Secondary Characters
September Song
Two Nobodies In New York
Untitled Opening Number
What Kind Of Girl Is She?