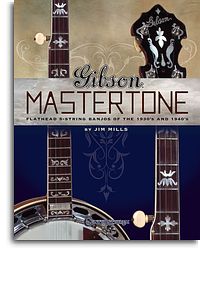 Gibson Mastertone - Flathead 5 String Banjos Of The 1930s And 1940s
While Gibson produced literally thousands of banjos prior to WWII, only a handful were made in the now most desirable configuration: the Original Flathead Five-String Mastertone. Since Earl Scruggs helped to make them the most sought-after banjos in the world over 60 years ago, these instruments have amassed a cult-like following.
These particular banjos featured a completely innovative design when the Gibson Company introduced them around 1930. They have since become the benchmark in design, sound quality, and just sheer power among banjo players. They have therefore also become the inspiration for nearly every successful 5-string banjo that has been manufactured for the past five decades.

Like Martin Dreadnaught and Fender Stratocaster guitars, the Gibson Mastertone Banjo has achieved an exalted status: It is appreciated far beyond its utilitarian purpose as a musical instrument, and considered a truly original American art form. The Mastertone design and style are instantly recognizable by musicians and music lovers around the world, even if imitated by other manufacturers.

Of the 130 or so Original Flathead Five-String Mastertones known to exist, 19 of the absolute best are featured here. The Scruggs, Reno, Jenkins, Crowe, Osborne, Huber and Mills banjos are shown in all of their glory, with details of their known histories and provenances, as well as never-before-seen photos, bills of sale, factory shipping ledgers, and other ephemera relating to these rare and highly desirable instruments.