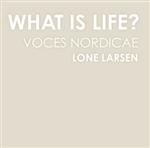 Voces Nordicae
conducted by Lone Larsen
1.Leonardo Dreams Of His Flying Machine (Eric Whitacre)
2.Regn og rusk og rosenbusk (Bo Holten)
3.Ubi Caritas (Ola Gjeilo)
4.Deus in adiutorium (Ola Gjeilo)
5.What Is Life? (Ann-Sofi Söderqvist)
6.Frame And Content (Sara Niklasson)
7.Sanctus (Olle Lindberg)
8.Agnus Dei (Olle Lindberg)
9.Till sist (Gunnar Eriksson)
10.Die erste Elegie (Einojuhani Rautavaara)

Information:
This is choral music of the highest quality! Voces Nordicae produces a warm and intense sound - perfection blended with expression and heart.

The bulk of the material on this, the third Voces Nordicae CD, is choral music specifically dedicated to the ensemble. Over the last years Voces Nordicae has cooperated with choreographers to create a mixture of a traditional choir concert and a theater/dance performance. All of the pieces on this CD have been performed in the performances "Tabula rasa" or "Catching Eyes".

The vocal ensemble Voces Nordicae from Stockholm, Sweden, was founded in 1999 by the Danish conductor Lone Larsen and consists of 16 professional singers. The repertoire is varied, including works from essentially all periods of the music history, with special attention to Nordic, contemporary and improvisatory music. Openminded towards new timbres, Voces Nordicae combines a pleasant light blend with surprising and ventured sounds. The repertoire and programs are chosen with great care, and encompass a wide span of musical and human expression.

In 2008 Voces Nordicae was selected Choir of the Year by Concerts Sweden. The choir is invited to sing at the World Symposium of Choral Music in Puerto Madryn, Argentina, in August 2011.