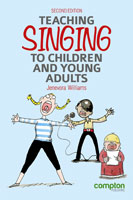 Teaching Singing to Children and Young Adults
Artikelnummer
9781909082595
Jenevora Williams, Ph.D.

Teaching Singing to Children and Young Adults is a well-balanced guide to vocal pedagogy. It explains the abilities and limitations of the young singer from both an educational and physical perspective. This is divided into several stages of learning, ranging from infant to undergraduate. Particular attention is given to the development of the voice during adolescence in both girls and boys.

Appropriate technique is outlined, with anatomical descriptions and sample exercises throughout. Approaches suitable for different musical styles are covered. Related topics are explained such as the teaching of children with special educational needs, vocal health, and the structuring of lessons, warm-ups and individual practice times.

Packed with illustrative case studies and illuminated with original cartoon art, the book reflects the extensive personal experience of the author.