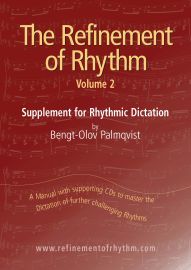 The Refinement of Rhythm, volume 2 Supplement
Artikelnummer
9780975130230
The Refinement of Rhythm Volume 2: Supplement for Rhythmic Dictation is a supplementary pedagogical program designed to assist students develop notation skills to master the dictation of rhythm.
It consists of a Manual, a Workbook and recordings of 130 dictation exercises on 2 CDs. This is an additional publication which accompanies the original practical guide, The Refinement of Rhythm Volume 2: a practical guide with supporting music samples for learning to perform further challenging rhythms.
Link to music samples.
Workbook/arbetsbok
Workbook/arbertsbok - free download